2/18/2022
Mark your calendars. Membership meetings are the 1st Wednesday of the month!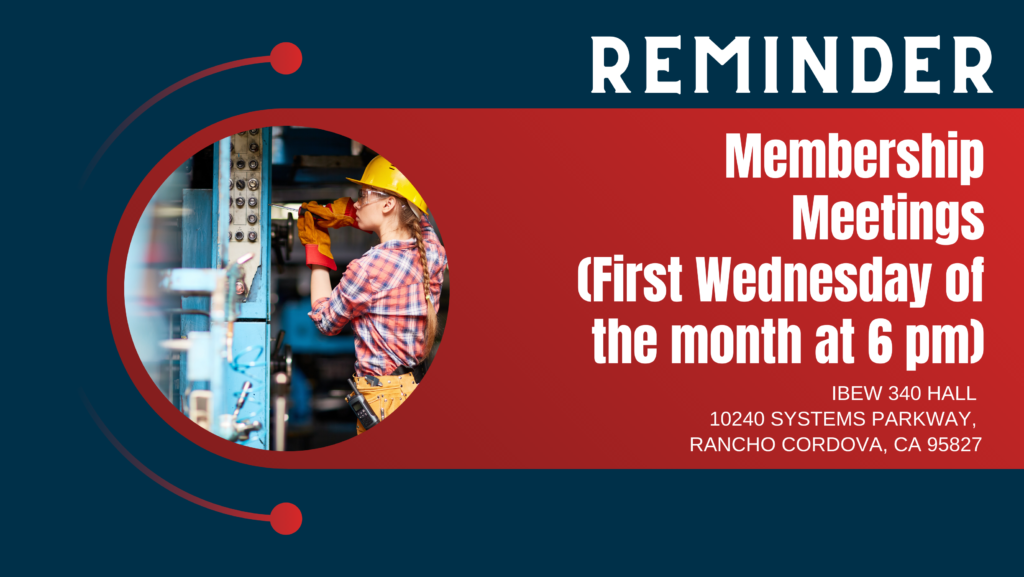 2/17/2022
Please be aware that in observance of Presidents' Day the IBEW 340 offices will be closed.The offices will reopen on Tuesday, February 22nd.
2/15/2022
This year's Softball Team Crab Feed will be hosted on this Saturday (2/19/202)!! We'd love to see you there! Join us for a chance to support the team while enjoying delicious food. Don't forget a $60 door donation enters you into a special door prize drawing! .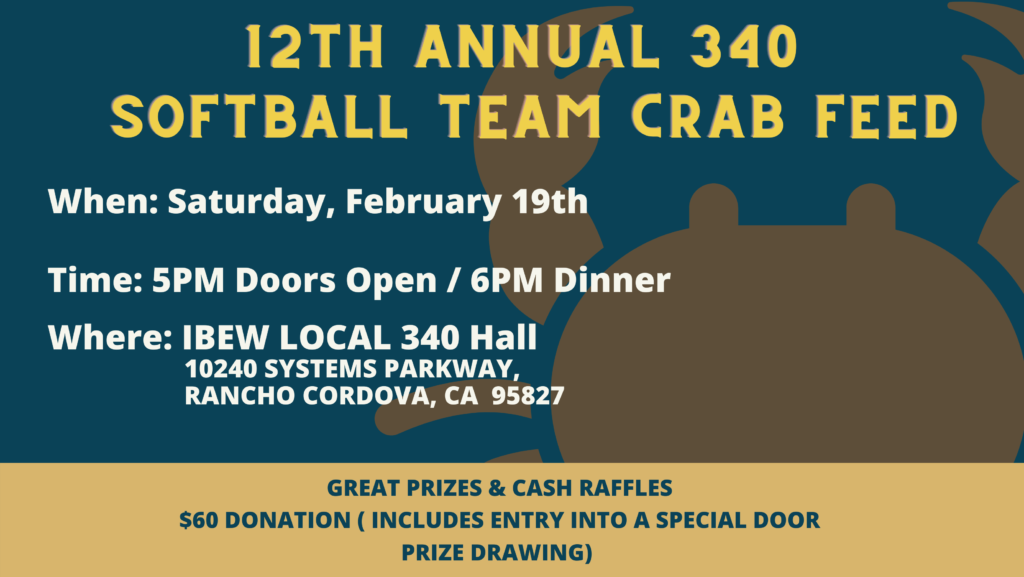 NORTHERN CALIFORNIA'S FINEST ELECTRICIANS
Steeped in history with an unparalleled commitment to leading our industry, the International Brotherhood of Electrical Workers Local 340 represents the finest electricians in Northern California.
Our members are sought after for their extensive training, including our apprenticeship program, in the electrical, telecommunications, and low voltage fields. We invite you to join us – become an IBEW 340 member and enjoy the benefits of union representation. A strong union allows us to work together to better ourselves, our industry, and our community.
Upcoming Events
Office Closed in Observance for Memorial Day
Executive Board Meeting
4:30 pm - 5:30 pm
Membership Meeting
6:00 pm - 7:00 pm
Executive Board Meeting
5:00 pm - 6:00 pm
Latest News
LABOR BULLETIN By BUSINESS MANAGER BOB WARD APRIL 2022 LOCAL 340 ORGANIZER TRAINING We would like to thank all of those who showed interest in the recent Organizer Position, your dedication and loyalty for our Union is what truly helps our Local grow. By the time this reaches you we will have hired our…
[Read more]

Labor Bulletin April 2022
LABOR BULLETIN By BUSINESS MANAGER BOB WARD FEBRUARY 2022 SOUND & COMMUNICATION'S MARCH 1, 2022 ALLOCATION By the time this reaches you we will have closed voting on the upcoming allocation for the upcoming $2.25 increase. We would like to thank all those who attended the Special Called Discussion meeting on January 20, 2022,…
[Read more]

Labor Bulletin February 2022