1/12/2022:
Thank you to everyone who participated in Operation Christmas Basket. Your support helped bring joy and holiday cheer to many families. IBEW 340 would also like to announce and congratulate this year's three lucky winners. We look forward to hosting this event again this December.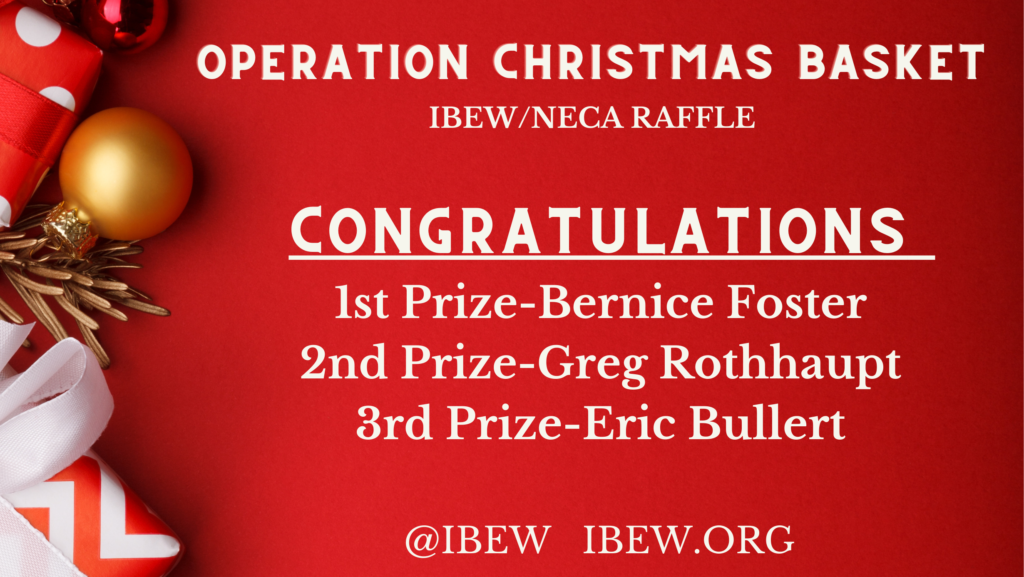 1/4/2022:
ATTENTION. Due to an internal COVID precaution, by the motion of the Business Manager and President, the January 5th membership meeting has been canceled.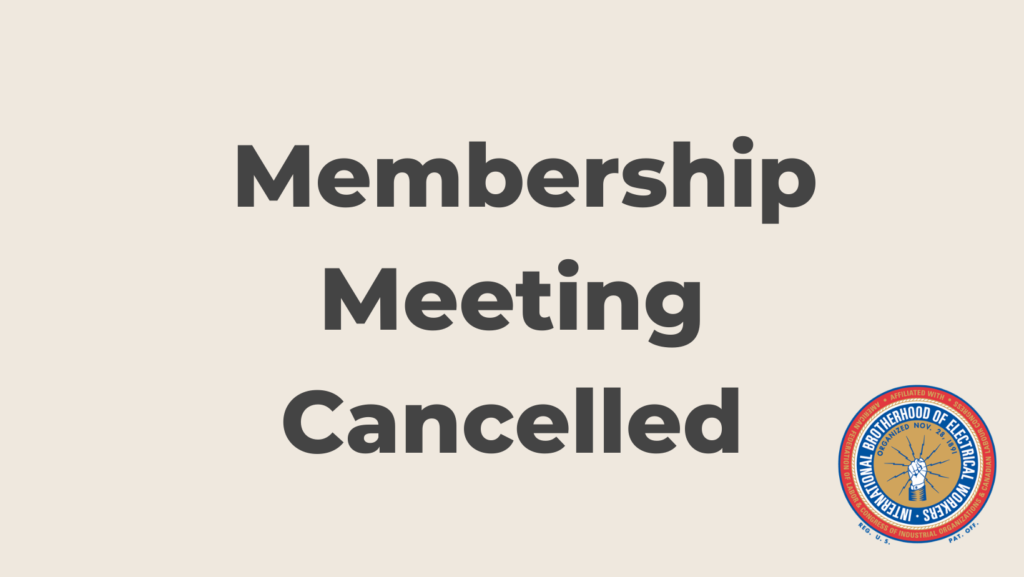 IBEW Local 340
URGENT NOTE FROM IBEW LOCAL 340 BUSINESS OFFICE

..
7/7/2021:
IBEW General Membership Meeting 7/7/2021 at 6 pm
Brothers and Sisters,
Join us this evening for our first in-person membership meeting at the hall in over a year. Our meeting will start at 6 pm. We are serving dinner, starting at 5 pm, catered by SacTacos. We look forward to seeing everyone this evening.
3/23/2020:
Update from the Business Offices of IBEW Local 340
Brothers and Sisters,
First off, I would like to thank you and commend you for your courage, hard work and patience through these unprecedented times. It is your skill and dedication that will assist in the efforts to provide our communities with the essential services they need to get through the COVID-19 outbreak.
As we stated last week, IBEW Local 340 is still open and operating as usual. We have been working day and night to be able to provide the same services we normally provide as we navigate through City, County, and State and National orders. During this time, you may reach a voicemail as we are experiencing a high volume of calls. Please leave us a message and we will reach back out to you as soon as we can. It is of the utmost importance to verify that we have your most current contact information in our system as we are sending out all updates through Email and Text. If you are uncertain on how to update your information, please contact our office at (916)927-4239.
On Friday 3/20/2020, IBEW local 340 representatives and our partners at NECA met to evaluate all of the information provided by National NECA, IBEW International Office, State of California, and Local County and City orders to ensure that our jurisdiction is operating in a safe and efficient manner while providing essential services. Furthermore, we wanted to be certain that everyone is operating with consistency as we are receiving new orders and National MOU's almost hourly. We will be meeting daily to process new information and issues as they arise. The Information listed below has been reviewed by all parties and should provide some guidance through these unchartered times. 
National MOU Between NECA/IBEW issued
3/16/2020: 
NECA/IBEW
National Disease Emergency Response Agreement (NDERA)
Questions and Answers to NDERA Issued
3/19/2020:
NECA/IBEW
National Disease Emergency Response Agreement Q&A (NDERA)
California Statewide Order Issued By Governor Newsom on
3/19/2020:
County of Sacramento "Stay at Home or Place of Residence" Order
As stated in many of the links above, "Electrical Workers" are listed as "Essential Employees" at the County, State, and National Level. Labor and Management have agreed that the NDERA and NDERA Q&A documents Drafted at the National level provides a sound set of guidelines regarding your employment options.
Therefore, until your contractor notifies you that they are shutting a job site down, please report to work and practice social distancing and handwashing. If your job site is shut down, please contact a Business Rep or Agent at the Hall (916-927-4239) so that we can continue to monitor the situation. Also, As stated above, NECA and the International Office of IBEW recently signed an agreement ensuring that no adverse actions would be taken against members that feel unsafe and do not wish to go to a job site – their request for unemployment will be honored.
Please be safe and watch out for your Brothers and Sisters!
Thank you,
Bob Ward
Business Manager
NORTHERN CALIFORNIA'S FINEST ELECTRICIANS
Steeped in history with an unparalleled commitment to leading our industry, the International Brotherhood of Electrical Workers Local 340 represents the finest electricians in Northern California.
Our members are sought after for their extensive training, including our apprenticeship program, in the electrical, telecommunications, and low voltage fields. We invite you to join us – become an IBEW 340 member and enjoy the benefits of union representation. A strong union allows us to work together to better ourselves, our industry, and our community.
Upcoming Events
Executive Board Meeting
4:30 pm - 5:30 pm
Membership Meeting
6:00 pm - 7:00 pm
Executive Board Meeting
5:00 pm - 6:00 pm
Softball Crab Feed
5:00 pm - 9:00 pm
Doors open at 5 PM Dinner is served at 6 PM
Latest News
LABOR BULLETIN by BUSINESS MANAGER BOB WARD JANUARY 2022 SOUND & COMMUNICATIONS 3-1-2022 ALLOCATION VOTE We will be holding an in-person discussion meeting for the upcoming $2.25 increase for S&C. Please note that no voting will take place at this meeting, it is simply to discuss the three options to be voted upon. All…
[Read more]

LABOR BULLETIN Jan 2022
LABOR BULLETIN by BUSINESS MANAGER BOB WARD MAY 2021 INSIDE WIREMAN'S UPCOMING NEGOTIATIONS By the time this reaches you we will have closed the deadline for voting on the on the first ratification vote. We would like to thank all of those who took the time to vote and help us prove the worth…
[Read more]

LABOR BULLETIN May 2021